Won't you enjoy a cozy, charming, and quaint space in your house? What if that space was your kitchen where you spend quality time with your loved ones?
If you are tackling kitchen remodeling, you should go for a modern farmhouse-style. If you like simplicity with a modern flair and rustic charm, you will enjoy the theme. This elegant style of kitchen interior blossomed in popularity, giving the perfect blend of countryside and luxury.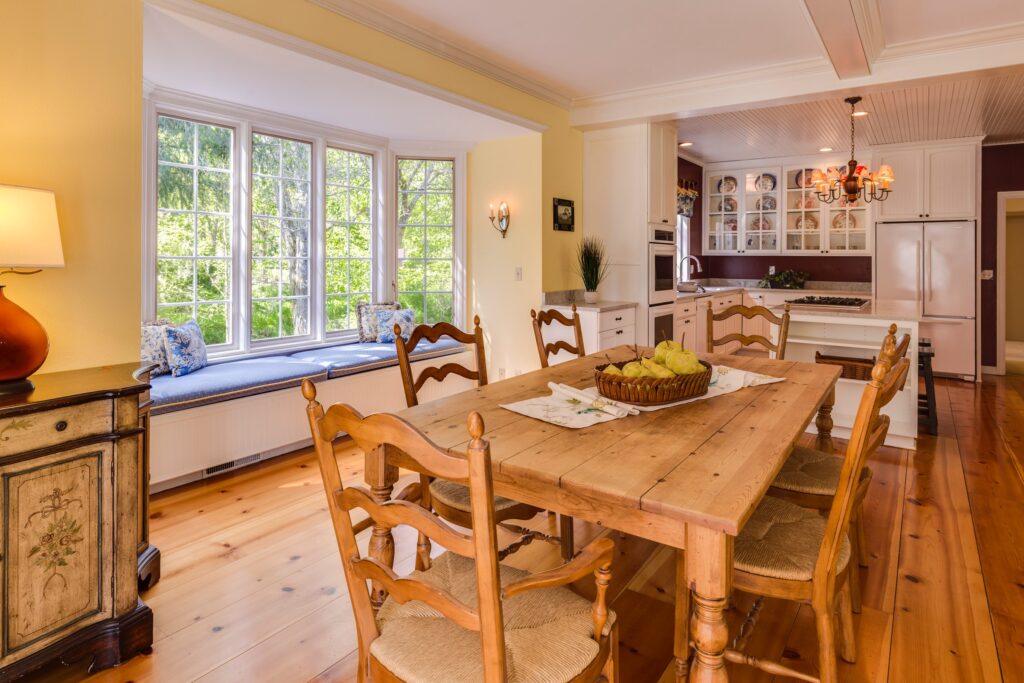 Unlike contemporary style, the modern farmhouse stands for warm, fresh, and clean. There is a sense of nostalgia with the farmhouse style. To create this, all you need is some basic ingredients, like rustic elements, modern features, and industrial accents. When perfectly blended, it will give you a functional and suitable modern farmhouse kitchen.
Essential Elements of a Modern Farmhouse Kitchen
The key to a modern farmhouse kitchen is balancing the best of both worlds – aesthetic and contemporary. And following are several elements that can pull it together.
● Natural Elements
As you can picture, the modern farmhouse design has natural elements such as woods. You can consider wood furniture or countertops to give a warm and inviting look.
● Neutral Colors
You simply cannot go wrong with neutral colors when designing a modern farmhouse. Neutral colors modify the place, giving an airy, straightforward, and comfortable feel. When combined with natural light and grey/white kitchen cabinets, it stands out.
● Antique Elements
Bring in some industrial/antique elements to your kitchens, like lightings and aesthetic accessories. Pair it well but remember that less is more. You do not want the room to seem too outdated.
Try representing your style with a touch of subtlety and natural elements that speak to you.
Tips and Ideas to Renovate Modern Farmhouse Kitchen
One of the essential things to keep in mind when renovating your kitchen and giving a modern farmhouse style is that you should feel as though you can sit down and spend hours inside the room while enjoying your favorite cup of coffee or food. You can design it with:
● Vintage items
● Kitchen cabinets
● Brick walls
● Wide planks for the floor
● Barn doors
● Aesthetic accessories
● Different lightings
The key to a modern farmhouse kitchen is that it should be relaxing and welcoming. Here are some quick tips and ideas to redesign your cooking area:
Rustic
Elements like an oak beam, marble countertops, and vintage-looking hardware are perfect for creating a warm and ideal kitchen. Try to balance out the old and new, combine it with modern appliances and create a unique vibe.
Shaker kitchen cabinets
Shaker kitchen cabinets are perfect for those looking for a modern farmhouse-style kitchen. They are clean, classic, and chic. Use colors like navy blue, white, or grey, the latest trend. If you wish to add more character, then try to go for two-toned ones. All of it gives a warm appeal to the modern farmhouse kitchen. You cannot go wrong with this one!
Beautiful backsplash
In the past, kitchens had neutral color backsplash designs, but you can now incorporate a backsplash of vibrant colors. Fortunately, farmhouse kitchens allow you to play with patterns and textures.
Bring color back into the cooking space with a backsplash and replace the neutral and simple white ones.
Create contrasts
Mixing up old with new is fine, but another way to design a modern farmhouse kitchen is by using raw and polished elements. Add in some stainless steel appliances and pendant lights over the island.
Lights and lamps
Lighting is essential in a modern farmhouse kitchen, for it sets the tone of the area. For modern lighting, try to echo the light with candles or lamps in an adjustable setting. Hanging fixtures are a way to incorporate an industrial accent in the kitchen. You can combine copper with different designs for a cozy kitchen.
Wall art
Chances are that you may not even have considered selecting wall art. There are more crucial decisions to be made than wall art. But do not underestimate its impact. Your wall is simple to add character and color to the area. Try to keep your wall color simple because too many patterns can divert the attention from the rest of the design.
Metal fixtures
What else can well complement copper, bronze, or black metals in a modern farmhouse kitchen? That way, you do not have to worry about using too much color.
Do you know that your kitchen tap is one of the most eyed components in the room? So try to select something that matches well with the backsplash.
Simple upgrades
You can transform your old kitchen into the modern farmhouse style with a few upgrades. You can paint the cabinets, replace the hardware, and add open shelving to display your aesthetic artwork, antique pottery, etc.
Sure, a kitchen renovation can be daunting, but once you have fixed your budget, finalized the accessories, appliances, and colors, you will face little to no hurdle.
Modern farmhouse kitchen offers plenty of benefits. It is such a theme that can give you the ability to showcase your sense of style. It is all about warmth, timelessness, and elegance.